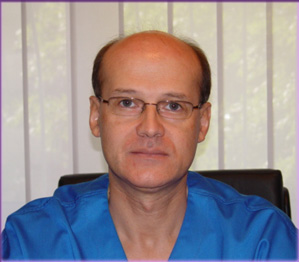 Here, at the FLEBESTET Medical Clinic, the only clinic with an exclusively flebological profile in the Romanian private medical field we use the non-stripping surgery for varicose veins. In the FLEBESTET Medical Clinic the surgical treatment is applied by Mr. Valerian Ciubotaru, MD.
The phlebological experience in the treatment of varicose disease of Dr. Valerian Ciubotaru consists of over 70.000 consultations and over 12.000 operations during the last 16 years in the medical field of the aesthetical surgery of the varicose veins. Dr. Valerian Ciubotaru is the vicepresident of the Romanian Society of Phlebology. Since 1998 he is also member of the prestigious French Society of Phlebology and of the International Union of Phlebology.
Dr. Valerian Ciubotaru has operated on patients from Romania as well as on foreign patients from 18 other countries (U.S.A., Canada, Columbia, Sweden, Germany, Hungary, Ukraine, Turkey, Greece, France, Slovakia, Italy, Ireland, Spain, Israel, Switzerland, Cyprus and Japan).